Hechler's Blog
Thoughts on a wide range of topics, including, but not limited to, topics covered in my reporting to date.
An old friend from Finland, who has lived in the United States and visited many times, wrote to ask me to explain the results of the presidential election. I see it as THE BIG DISRUPTION. But this one wasn't a disruption that came from the tech geniuses in Silicon...
read more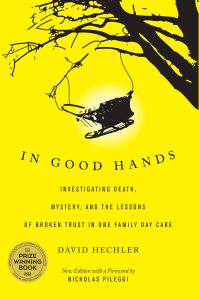 In Good Hands
Investigating Death, Mystery and the Lessons of Broken Trust in One Family Day Care
In Good Hands is a book about the importance of safe day care. It's also the story of one family day care that parents loved even after a baby died. They continued to drop off their children after a second infant died in the home. Doctors ruled that both children were victims of sudden infant death syndrome, but that didn't stop the police from launching a criminal investigation.